CPSC Warns Riders to Keep ATVs Off Paved Roads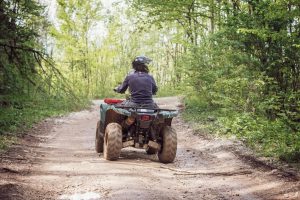 Summer is in full swing, with dozens of outdoor activities waiting for us. For many of the adventurous in Oklahoma, that means ATV riding. Going out on an all-terrain vehicle can be lots of fun, but it's important to avoid an accident and injuries. The U.S. Product Safety Commission (CPSC) recently released a public service announcement about the safe and responsible use of ATVs.
The CPSC's recent news release urges ATV riders to keep their vehicles off paved public roads. Backing up their warning with statistics, the CPSC revealed that 100,000 people suffer injuries and 650 people lose their lives in ATV accidents each year. In the public service announcement, the Acting Chairman of the CPSC, Ann Marie Buerkle, advises the public to refrain from using their ATVs on paved surfaces, as the vehicles aren't designed for such use, and because riding on public paved roadways can greatly increase the chance of being involved in a car accident.
Ms. Buerkle also noted that even if your city or state permits you drive an ATV on paved roads, the CPSC urges all ATV owners and operators not to. The hazards associated with crashes are simply too high, and sharing the road with vehicles such as passenger cars, trucks, or buses puts riders at a significant risk for injury or tragedy.
ATV safety facts and figures
According to the CPSC's news release, 32% of reported deaths—at least 770 fatalities—were related to incidents involving ATVs being driven or ridden on paved roads or parking lots. These numbers were taken from a four-year period between 2010 to 2013.
In total, 2,400 ATV deaths occurred during this period, with about 430,000 injuries treated in emergency rooms. Every ATV rider and owner should know the following safety facts:
All-terrain vehicles are designed only to be driven off-road, not paved surfaces.
ATVs are difficult to control on paved surfaces and can easily roll over.
Driving an off-road vehicle on the road or highway puts you at risk for colliding with cars or trucks.
It's also illegal to bring an ATV on paved roads in many states and towns.
Wear a DOT-compliant helmet, goggles, long sleeves, long pants, over-the-ankle boots, and gloves to protect yourself from injury.
Never ride under the influence of alcohol or drugs.
Never carry a passenger on a single-rider ATV, and no more than one passenger on an ATV specifically designed for two people.
Ride an ATV that's appropriate for your age and size.
Riders younger than 16 should be supervised at all times.
Ride your all-terrain vehicle only on designated trails and at a safe speed.
The auto accident injury attorneys at Cunningham & Mears are concerned for the safety of all ATV drivers and riders. If you were injured in an accident in or around Oklahoma City, we can help. For a free consultation at our offices, call 405-232-1212 or fill out our contact form today.