Equipment Failure Causes Fire In Dewey, Oklahoma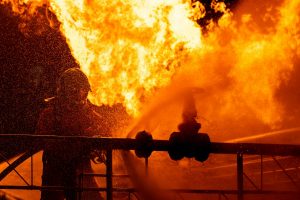 A recent pipe equipment incident is a warning that manufacturing and fabrication defects can cause burn injuries and death. Burn injuries can cause respiratory difficulties. Severe burns usually leave permanent scars which may require skin grafts and plastic surgery. Victims often suffer emotional damage in addition to the physical damage.
Bartlesville Radio reported recently that the Dewey Fire Department was called out to handle a fire involving pipe equipment and hydraulic fluid at a pipe fabrication site. The fire occurred at Oilfield Pipe and Supply in the afternoon. Oilfield Pipe and Supply "supplies new and used steel casing pipe, piling pipe, surplus pipe, and used steel pipe."
The firefighters included Captain Mike Bollinger, Cole Williams, and Branden Wano. They discovered that a mechanical failure in a pipe roller started the fire from the hydraulic fluid.
Assistant Fire Chief Cody Meade said additional firefighters "arrived in Pumper 3, Tanker 8 and Rescue 1 for rehab and scene safety." Another crew led by Lt. Mike Black helped with the cooling of the equipment.
What are the causes of industrial fires?
According to Occupational Health & Safety Online, the five leading causes of industrial fires and explosions are:
Combustible dust. Combustible dust can cause fire in chemical manufacturing, pharmaceuticals, woodworking, and many other industries. Almost every material may be combustible in dust form. Fires or explosions caused by dust are hard to contain.
Hot works. Hot work includes welding, torch cutting, soldering and other fire hazards. The sparks and molten material can travel more than 35 feet and reach a temperature of more than 1,000 degrees Fahrenheit.
Flammable liquids and gases. Fires due to these substances usually occur at chemical plants.
Equipment and machinery. Defective machines and equipment can cause industrial fires. Furnaces may cause fires if they aren't properly installed, operated, or maintained. Any mechanical equipment can become a fire hazard because of friction between the moving parts. "This risk can be brought down to practically zero simply by following recommended cleaning and maintenance procedures, including lubrication." In many cases, the equipment least likely to be thought of as a fire risk turns out to be the biggest danger because companies relax and don't take the proper safety measures.
Electrical hazards. Electrical hazards include exposed wiring, wiring that isn't up to code, outlets that are overloaded, overloaded circuits, static discharge, and extension cords.
Injured workers who suffer burn injuries have the right to file an Oklahoma workers' compensation claim with the assistance of experienced Oklahoma City work injury lawyers. Injured contractors generally have the right to file a negligence claim against any responsible parties. If a victim dies, a workers' compensation death claim or a wrongful death claim can be filed.
There is no need to prove fault in Oklahoma workers' compensation cases. In work injury cases, workers are generally entitled to 70% of their pre-accident wages and/or permanent disability payments. In personal injury cases, we work with experienced product safety experts to show the machinery or equipment was defective and that the defect caused your injuries or the death of a loved one. We demand compensation for all your medical bills. In personal injury cases, they're entitled to compensation for all their lost wages and compensation for their physical pain and emotional suffering.
For help with any burn injury case Oklahoma, call our Oklahoma City office at 405.232.1212 or complete our contact form to schedule an appointment.