Keeping Jurors and Court Staff in Oklahoma City Safe during the Pandemic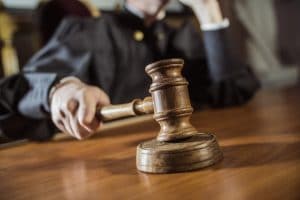 In Oklahoma City, jury trials are officially taking place. Typically, jurors who are chosen through a selection process, sit close to each for hours or even days at a time. With the COVID-19 crisis, that typical behavior is dangerous to the jurors and to anyone who approaches the jurors such as when a court officer presents them with documents to review.
According to The Oklahoman, Oklahoma County officials have prepared a jury trial safety plan so felony trials can proceed. The court officials felt confident that the COVID-19 jury safety plans will be effective. The Presiding Judge and Court Clerk said they worked for several months to develop protocols (through charts and walking routes) so that jurors could be socially distanced from each other by at least six feet. The plan also includes supplying jurors with gloves, masks, and other personal protective equipment.
Some of the additional protective measures courts are using
Other steps announced by court officials include the following:
Before coming into the courthouse, jurors will have their temperatures taken
While they jurors are in the assembly room, they must wear masks
The start times, times for lunch, and the evening recess will be "staggered to limit the number of people in the hallways."
The courtrooms will be disinfected twice each day
The county also arranged for additional cleaning staff
The courts in Oklahoma have a seven week backlog of jury trials. Court officials hope that 400 or more people will have shown up for the first day of jury duty – August 17. The Oklahoma county backlog is much more than most other counties in the state. About 300 defendants are waiting a felony jury trial. For now,
Court officials stress that there is a difficult balance. On the one hand, they want to help ensure the safety of the jurors and everyone involved in the court trial. On the other hand, many defendants are in jail during the waiting period to establish safe procedures. The defendants have the constitutional right to have their day in court. The victims have the right to justice. Lawyers have expressed concerns about their safety, too.
COVID-19 cases, according to The Oklahoman, are rising. During the pandemic, through early August, more than 10,000 COVID-19 cases have been reported. Oklahoma County is the largest county in the state.
At Cunningham & Mears, our Oklahoma personal injury lawyers are still continuing to represent injury victims. Many parts of a civil case can be conducted online or with safety precautions – including interviews, document preparation, investigation, and deposition. Many cases do settle before cases are listed for a jury trial. For help with any car accident case, premises liability claim, product liability case, oil field injury, or other personal injury claim; call our Oklahoma City office at 405.232.1212 or complete our contact form to schedule an appointment.