Road Rage Has Potential to Cause Permanent, Severe Injuries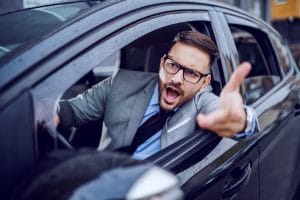 Everyone is a little stressed these days, but some people are better at managing the effects than others. The roadway is one place that can result in an explosive release of emotions leading to life-long injuries when those feeling the pressure finally snap. Drivers aren't always considerate these days and someone who is already on edge is more likely to be prone to engaging in behavior that amounts to road rage. Oklahoma has seen its fair share of it lately and it has not only deadly consequences but can leave victims and perpetrators with permanent injuries.
One such trauma is a traumatic brain injury (TBI), which is caused when your head is forced to make contact with a hard object. This could be due to hitting your head on a steering wheel or even from being thrown from a vehicle. Guns have been used in several Oklahoma road rage incidents of late that involved speeding and auto accidents. Some resulted in shootings that caused permanent physical damage or death to victims.
How many car accidents are caused by road rage?
According to The Zebra, the road rage statistics are mind boggling. Across the country, 82% of people have admitted to feeling road rage or engaging in aggressive driving in the last year, which includes:
6% getting into a physical altercation with another driver. This could have resulted in a hard hit to the head, or even a driver being knocked down and hitting his or her head on the ground.
5% sideswiped another vehicle which could cause that vehicle to lose control and wreck. Auto accidents can cause a wide array of injuries including seat belts damaging internal organs.
Another 5% admitted to intentionally bumping or ramming another vehicle, which could also cause that vehicle to wreck. A driver or passenger can experience bruises and broken bones during a crash.
Finally, 5% admitted to forcing another driver off the road, which again, could cause a violent car accident.
Any of these scenarios can mean a vehicle rolling out of control across a median or even slamming into other vehicles or objects. Cars can catch fire and cause severe burn injuries, or become crushed resulting in loss of a limb or a spinal cord injury.
Road rage has gotten especially violent in Oklahoma
Most people joke about having road rage when they become frustrated with other drivers. Maybe they honk their horn or make a hand gesture, but that's where it ends for them. Unfortunately, that's not always where it ends for the other driver.
Check out some of the more dangerous Oklahoma road rage incidents that have happened in the last year:
Everyone has a duty to follow the rules of the road and to drive safely. When someone disregards the rules of the road and common civility, you can experience a catastrophic injury or worse. If you have been injured in a collision, the dedicated Oklahoma City car crash attorneys at Cunningham & Mears will vigorously pursue the insurance company for all damages you are entitled to for the pain you have suffered. To schedule your free case evaluation with a member from our team, call 405-232-1212 today or we invite you to reach out to us through our contact form.