The Legal Rights of a Child Seriously Injured in a Car Crash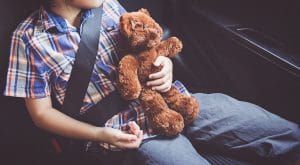 Even though parents think they can keep their children out of danger most of the time, sometimes situations are simply outside of their control. An example of this is when children ride in a car, whether they are traveling with their parents, other family members, friends, on a school bus, with a babysitter, or in an Uber or Lyft vehicle. A car accident can occur at any time and without warning. It is important to know the legal rights your child has if he or she is seriously injured in a car accident.
Pursuing a car crash claim for an injured child
In the state of Oklahoma, the law allows parents to pursue an injury claim for a child who is the victim of a car accident. Children commonly suffer injuries and accidents that involved vehicles, including cars, trucks, buses, and bicycles, whether as a passenger in a vehicle or as a pedestrian.
If your child sustains injuries in a car crash, he or she has the same essential legal rights as an adult who is involved in the same type of crash. The only difference is that a minor child is not able to bring the claim on his or her own. The parent will typically file a claim on behalf of the child.
In a car crash injury claim, your child is entitled to receive compensation for his or her injuries, including pain-and-suffering, mental anguish, and lost wages if the child is employed.
Other specific types of compensation available to a child injured in an automobile wreck include lost earning capacity, property damage, metal expenses, and court costs.
The burden of proof in any claim for injury is on the plaintiff. Any claim for damages must be supported by medical records or other relevant documentation.
Different medical concerns for a child injured in a car crash
One of the primary distinctions between the injuries sustained by an adult and those sustained by a child is the special care and caution that must be exercised in order to ensure the child's injuries are fully discovered and treated. These injuries, if not recognized, may impact the child's future for decades to come.
For instance, if a child sustains a break in the growth plate, the child will require surgery to heal the bone and help ensure the bone develops properly. An adult might only need to have the bone set, and have a cast put on the limb. Because children are in various stages of growth, the injuries they suffer can involve more complexity in terms of diagnosis and treatment, in addition to higher treatment costs.
In addition, children are not always able to explain the symptoms they feel or accurately describe their injuries as an adult is able to do. If your child has sustained an injury in a car crash, it is important to hire an Oklahoma City car accident attorney who understands how to work with children who have been injured and also has connections with physicians who know how to treat the complexities of these injuries effectively.
At Cunningham & Mears, our Oklahoma City car crash lawyers are ready to help you and your family if one or more of your children have sustained injuries in a car accident. We can fight on your behalf for the financial compensation you deserve for your losses. To set up a free case review, give us a call today at 405.232.1212 or complete our contact form.