Tire Care and Car Accidents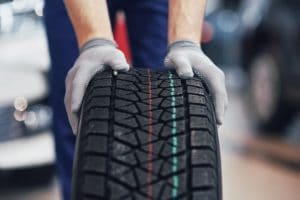 Quality tires are essential for every type of vehicle. It's important to pay attention to your tires on a regular basis – especially when the weather conditions are poor. Tires which aren't properly inflated, have poor tread, or are worn with wear can cause fatal accidents and serious injuries such as traumatic brain injury, spinal cord damage, and broken bones.
According to the National Highway Traffic Safety Administration (NHTSA), 738 people died in 2017 due to tire-related accidents.
Liability for tire-related accidents
If the tire is defective and that defect is a cause of the accident, then anyone who is hurt can file a claim against the manufacturers and sellers of the defective tires. Tires may be defective because of improper design or faulty workmanship. Generally, tire manufacturers should also warn consumers to keep the tires inflated and explain what pressure is required for the tires.
If a mechanic, repair shop, or a business that installs new tires doesn't properly install and balance them, then that person or company be held liable. For example, the mechanic should make sure he/she installs the correct tire for your car model.
If a car owner drives on bald tires or on tires that have the incorrect pressure, and the poor tires cause an accident, then the car owner may be liable for their negligence in failing to inspect their tires. Drivers who operate their car with bald tires may be liable for punitive damages.
Tire buying suggestions
Car owners should understand that there are different types of tires for different conditions. According to the NHTSA, some of the different types of tires are:
All-season tires. These tires should be able to handle weather conditions year-round including some mud and snow capabilities.
Summer tires. These tires shouldn't be driven in snow, ice, or freezing weather.
Winter tires. These tires are designed for cold weather including heavy amounts of snow.
All-terrain tires. These tires are primarily used on four-wheel vehicles. They also have some off-road capability.
Tire maintenance suggestions
For starters, car owners should know that good tire maintenance saves money. Properly inflated tires can save up to 11 cents a gallon on fuel costs. Regular rotation, alignment, and rotation of tires can help ensure that the tires last longer which saves money too.
Car owners should regularly check the tire pressure by using a tire-gauge or checking the pressure at their local car repair place or gas station. Other items to look for include:
Bulges
Uneven tread wear
Making sure the tires are the correct size and type for your car
For example, the NHTSA recommends that owners check the tread monthly. "Tires have built-in 'treadwear indicators,' which are raised sections that run in between the tire's tread. When the tread is worn down so that it's level with the tread indicator, it's time to replace your tires." A common technique is to place a penny in the tire tread upside down. If you can see the top of Abraham Lincoln's head, then your treads are worn and it's time to purchase new tires.
Drivers should be prepared to handle a tire blowout while they're operating the vehicle. The main idea is to keep control of the car by not overreacting (such as by slamming on the brakes). The NHTSA recommends that drivers:
Keep both hands on the steering wheel
Keep the speed of the vehicle the same (if possible)
Ease up on the gas pedal gradually
Steer in the direction you want the car to go
Slow down and get off the road where it's safe
Car owners should also have quality spare tires and know how to install a spare. A mechanic should inspect the spare since many spare tires are just meant to be used for short distances. The mechanic or tire company can help install a new quality tire.
At Cunningham & Mears, our Oklahoma City car accident lawyers have 55 combined years of experience fighting for car accident victims. We work aggressively to hold all liable parties accountable for your medical bills, pain and suffering, lost income, property damage, and any other recoverable damages. If you were injured or a loved one died in any type of car accident, call our respected Oklahoma City lawyers at 405.232.1212 or fill out our contact form to schedule an appointment.