Why Drivers Need to Be Extremely Careful Around Storm Debris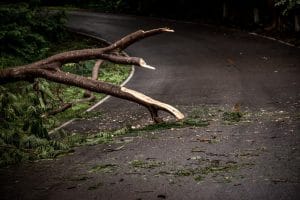 Heavy storms can wreak havoc in communities. The storms make it difficult to drive as the rain pelts down and the wind rips through the air. Drivers should stop or get off the road as quickly as possible during a storm. After the storm, the efforts to clean up the debris can alter driving routes and cause car accidents as drivers and crews try to manage the debris.
KFOR- TV in Oklahoma reported on a January storm that caused immense damage to trees and utility lines throughout the state. Cleanup crews are still working to clear debris from an ice storm that affected a "621-mile service area," according to an Oklahoma City utility director. It's expected that the cleanup won't be fully completed until March 6. Residents are being reminded not to "cover their water meter, gas meter or set debris close to any obstructions such as trees, mailboxes, fire hydrants, or vehicles." Tree limbs should be cut "to a length of 10 feet or shorter."
Tree and limb debris should be set out according to "bulky waste guidelines."
Why storm debris causes driving accidents
Trees, limbs, downed power lines or cables, and objects the wind may blows into the road pose a danger to drivers for several reasons.
Drivers may lose control of their car if they run over the debris
Drivers may veer off the road or into other vehicles as they attempt to steer clear of the road debris
Drivers may strike or be struck by road construction vehicles
The roads may be damaged. Potholes, uneven surfaces, wet surfaces, and other factors can increase the odds of a deadly or serious car accident – especially when these conditions are combined with road debris from storms.
Property insurance issues
If storms damage your home or business, it's important to review your insurance claim with an experienced attorney as soon as possible. A professional needs to examine your property to decide which issues such as a leaking roof need immediate attention and the costs to make any repairs or to rebuild. If a business loses power or can't operate for other reasons, they should claim business interruption damages in addition to property loss damages.
Experienced Oklahoma City insurance lawyers understand what type of policy coverage you need for storm damage, what damages should be covered, when your insurance adjuster is operating in bad faith, when you might be entitled to an advance, and many other insurance issues.
At Cunningham & Mears, our Oklahoma City lawyers understand who is liable when storm damage causes an accident. We hold construction crews accountable when they don't follow proper protocols and other drivers liable when they fail to drive safely. We negotiate just settlements with car accident liability carriers and your own property damage carriers. When necessary, we're ready to try your case before a jury. For help with any type of storm damage claim, call our seasoned Oklahoma City lawyers at 405.232.1212 or fill out our contact form to schedule an appointment.