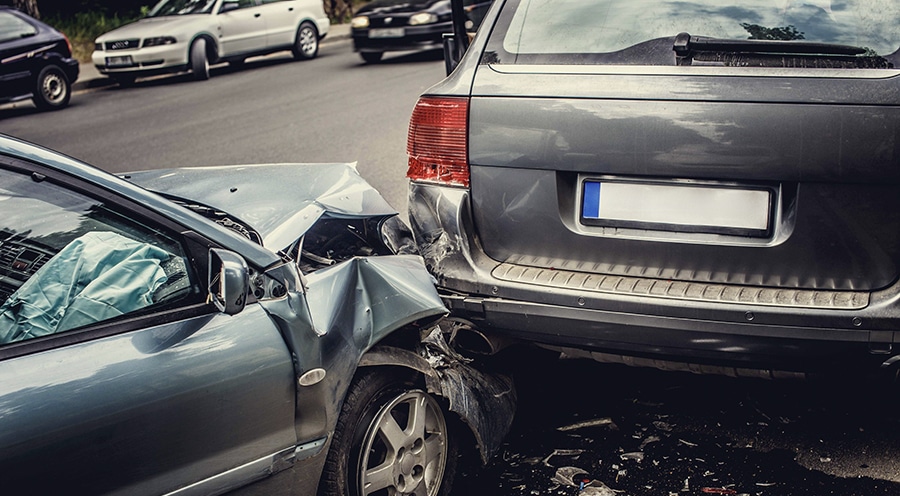 Shawnee Car Accident Attorneys, Pottawatomie County, OK
Strong advocacy for victims of car crashes across Pottawatomie County
There's no excuse for negligent driving. At Cunningham & Mears, our car accident attorneys help Shawnee injury victims claim compensation after a wreck. We work with investigators, conduct discovery, and speak to all witnesses about your case. Our lawyers work with your medical team to fully document your injuries, the treatments you need, and the pain and suffering you must endure. Let us put our 105 years of combined experience to work for you. Contact us today.
Why do Shawnee car accidents happen?
Most car crashes are due to the following types of driver negligence:
Driving while intoxicated. Drivers who drink and drive are a danger to themselves and everyone on the road.
Driving while distracted. Distracted driving includes texting while driving, talking on a cellphone, eating, drinking, or any other distraction – that takes a driver's hands off the wheel, eyes off the road, and mind off traffic.
Driving while tired. There's no excuse for failing to get enough sleep or failing to take rest breaks.
Speeding and other traffic violations. Speeding is a major cause of Shawnee car accidents. Running through red lights, failing to merge properly, and passing improperly also cause car crashes.
Failing to use proper caution. If it's raining, snowing, or there's glare from the sun – drivers need to take proper precautions. Drivers need to be extra careful at intersections where pedestrians and bicycle riders may be crossing the street.
Defective car parts are another major cause of accidents in Shawnee. Cars should have brakes, airbags, fuel lines, steering, and other working car parts. If a defective car part causes a crash, the manufacturer and other businesses in the supply chain should be held liable.
What are the common types of car accidents on Shawnee roads?
Our experienced Shawnee car accident lawyers represent anyone who is injured in a car accident, and the families of anyone killed in a car crash. We handle all types of car wrecks including:
Rear-end collisions
Head-on crashes
Broadside (T-Bone) crashes
Sideswipes
Single car accidents
Multiple vehicle accidents
Who's responsible for Shawnee car crashes?
The primary defendant in all car crashes is the driver of the car that struck you. Other possible defendants include:
The owners of the vehicle – if different than the driver
The manufacturer, distributor, or seller of a defective car part
A business such as a tavern that sells alcohol to someone who is visibly intoxicated, or someone who is under 21 – and that person drives a car and causes an accident
The state of Oklahoma or a subdivision or agent (such as the Oklahoma Department of Transportation) if that governmental entity improperly designed the roadway where the accident happened, failed to make proper repairs, or failed to give drivers proper warnings about hazardous roads
What types of injuries do Shawnee car accident victims suffer?
In the most tragic cases, a loved spouse, parent, or child dies. We help recover all the damages they're entitled to by filing a wrongful death lawsuit on the family's behalf. According to the Oklahoma Highway Safety Office, 640 people died in Oklahoma vehicle crashes in 2019.
Many car accidents cause catastrophic or permanent injuries. Many other injuries take months to heal and require committed physical therapy and other treatments. Common car accident injuries include:
Traumatic brain injuries (TBIs). These are forceful blows to the head which can cause loss of consciousness – and a lifetime of cognitive, physical, and emotional difficulties. Car accident victims with a TBI often need surgery, treatment by neurosurgeons, and treatment with many different types of therapists.
Spinal cord injuries. The spinal cord enables your neck and back to communicate with your brain. When the spinal cord is injured, victims may suffer full or partial paralysis. Spinal cord injuries can cause disc, nerve, and other types of damage. Many victims suffer a lifetime of chronic pain.
Whiplash. This soft tissue injury is due to the rapid back and forth movement of the neck - usually when the occupants of a vehicle are struck in the rear.
Broken bones. Drivers and passengers often suffer simple or compound fractures as they bounce around the vehicle after a car accident.
Other common Shawnee car accident injuries include damage to the nerves, ligaments, tendons, internal organs, and other parts of the anatomy. Victims almost always sustain cuts, bruises, and lacerations. If the car ignites, the occupants may suffer severe burn injuries. Some victims may suffer a limb amputation.
Victims who survive a car a car crash are entitled to compensation for their:
Physical pain and emotional suffering
Scarring and disfigurement
Loss of function of a body part
Medical expenses including hospital bills, doctor bills, therapy visits, medications, and medical devices
Loss of income while they heal and loss of income due to any permanent disability
In cases of wanton conduct by a driver or other defendant, we seek punitive damages on your behalf.
What steps should you take after a car accident in Shawnee?
It's normal to feel upset and unsure after a car accident. There are certain things you must do, and certain things you should do.
Stay safe. Cars, if possible, should be moved so other vehicles won't hit them.
Call the police. If anyone is injured in accident, Oklahoma laws requires that you or the other driver call the police.
Exchange information with the other drivers. You do need to give (and receive) all contact information and insurance information.
Call your own insurance company. They have a right to know you were in a Shawnee car accident so they can investigate the claim.
Attend to your health. If you're not taken to the ER at the time of the accident, you should go to the ER or your family doctor as soon as possible to get a full medical exam.
Call an experienced Shawnee car accident lawyer. Your lawyer will explain everything you need to do immediately. He'll send out an investigator to the site of the accident after the police have done their job. The lawyer will guide your through each stage of the litigation process.
You should not speak with the insurance company for any of the other drivers. That's your lawyer's job. You certainly should not settle any claims before you speak with your lawyer.
Call our experienced car accident lawyers after a car crash in Shawnee
At Cunningham & Mears, our premier Shawnee car accident lawyers understand how life-changing a car accident is. In most cases, we can settle your claim with the insurance companies for the responsible defendants. When necessary, we're ready to try your case before a jury. We owe our track record of success to attending to all the details, understanding how the law applies to your claim, our anticipation of the arguments insurance companies and defense lawyers make, and our ability to persuasively argue your case. To assert your rights to compensation, contact us or call 405-451-5077 today for a free initial consultation.