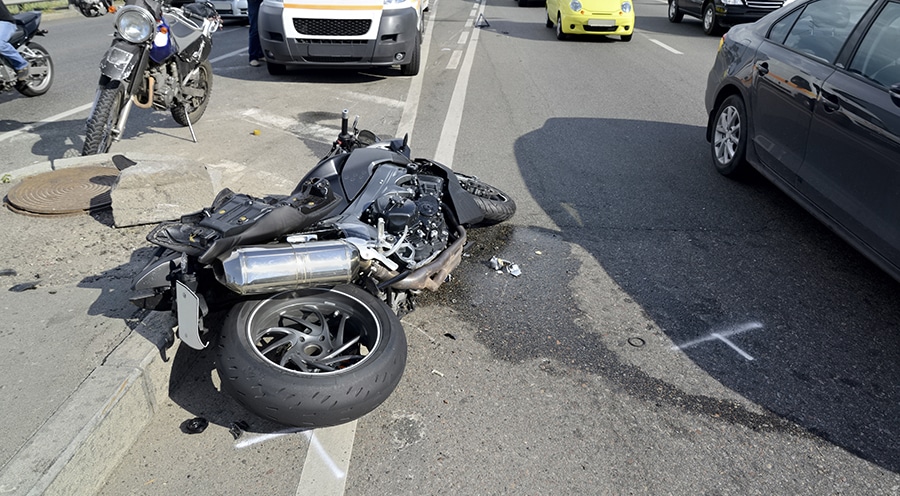 Shawnee Motorcycle Accident Lawyers
Help for riders and passengers in Pottawatomie County
Oklahomans ride motorcycles for many reasons. Whatever the reason, the reality is that motorcycle accidents happen all too often – and when they do happen, the riders are likely to suffer serious injuries or death. Motorcycle accidents often happen because car and truck drivers fail to respect your right to be on the road.
At Cunningham & Mears, our motorcycle accident lawyers have a strong track record of success in helping Shawnee personal injury victims obtain the recoveries they deserve. We fight for the families of any motorcycle rider who is killed in a motorcycle crash. We demand compensation for all your medical bills, pain and suffering, lost income, and property damage if you're injured in a motorcycle crash. Call us today to see how we can help.
Are motorcycles dangerous?
In and of themselves, no – motorcycles aren't dangerous. But riders are at risk of serious injury because of how little support and protection they offer. According to Road Racerz, motorcycle riders are 28 times more likely to die in a vehicle crash than car occupants. Furthermore:
Nearly 60% of motorcycle accidents occur between May and September.
Almost 50% of motorcycle crashes involve someone who had at least a trace of alcohol.
75% of motorcycle accidents involve another vehicle, while 25% are single-vehicle accidents.
Most accidents occur at intersections due to another vehicle failing to respect the motorcycle driver's right of way.
Fuel leakage is a strong possibility after the accident – which increases the risk of burn fatalities or burn injuries.
Helmets can reduce the risk of head injury by almost 70%, and "they do a great job of preventing death by almost 37%."
Why do motorcycle accidents happen in Shawnee?
Many motorcycle accidents happen because other drivers don't respect your rights. Poor road conditions are especially dangerous for motorcycle riders. Passengers on motorcycles can be hurt if the driver is inexperienced. Some of the reasons drivers and others are liable for motorcycle crashes in Shawnee are:
Driver distraction, such as texting while driving, or talking on a smartphone while driving
Drunk driving or driving under the influence of narcotics
Speeding, running red lights, failing to merge properly, and other traffic violations
Poor weather conditions
Dangerous road
Failure to see or respect the motorcycle rider
Defective motorcycle parts
Lane splitting
What injuries do motorcycle riders suffer?
Common motorcycle injuries include:
Traumatic brain injury especially if the victim wasn't wearing a helmet
Broken bones
Leg, foot, and ankle injuries
Road rash
Internal organ damage
Fractures to the bones of the face
Motorcycle accident victims often require one or more surgeries. Victims treat with many specialists including neurosurgeons, orthopedic doctors, burn injury specialists, pain management physicians, and other doctors depending on the type of injuries they have. Victims often need multiple treatments with physical therapists and other types of therapists. Some victims may need to consult with a psychologist.
Which defendants are liable for a Shawnee motorcycle accident?
Our skilled Shawnee motorcycle crash lawyers file claims against everyone who caused your injuries or the death of a loved one. Defendants may include:
The driver of another vehicle
The owners of another vehicle
The motorcycle driver and/or owner – if you are the passenger
The state of Oklahoma or a subdivision/agent if the accident is due to improper road design
A seller of alcohol to someone who is visibly intoxicated if that person caused the motorcycle accident
A manufacturer, distributor, or seller of a defective motorcycle part
No matter who is liable for your injuries, Cunningham & Mears will fight to protect your future. We are skilled trial attorneys and negotiators who understand what is at stake for you and your family.
What are Oklahoma's motorcycle safety laws?
Oklahoma requires that motorcycle owners, operators, and passengers comply with the following requirements:
Helmets. You're not required to wear a helmet if you're 18 or older (though wearing a helmet is advisable). The crash helmet that drivers under 18 must wear must comply with federal safety standards.
Mirrors. Motorcycles must be equipped with two rearview mirrors with proper reflection surfaces. The mirrors should be mounted on each side and positioned so the motorcycle operator can clearly see the roadway behind him or her.
Windshields and goggles. The windshields should be of "sufficient quality, size and thickness to protect the operator from foreign objects, except that in lieu of such windshield, the operator shall wear goggles or other protective eyewear which meets American National Standards Institute (ANSI) Standard Z87.1 and provides positive retention, or a face shield of material and design to protect the operator from foreign objects."
Handlebars. These shouldn't be higher than the operator's eye level.
The motorcycle should have a speedometer that can register "at least the maximum legal speed limit for that motorcycle." Each wheel must have a fender. The motorcycle should have a horn and a muffler – both of which meet Oklahoma safety standards
According to Travel Oklahoma, additional motorcycle rules and regulations include the following:
Headlights must be used during the daytime
A passenger seat and footrest are required if passengers use the motorcycle
There are no restrictions on handlebar speakers
The Oklahoma statutes don't reference the right to ride two abreast in the same lane of travel
How can Shawnee motorcycle riders protect themselves?
New riders should enroll in a motorcycle education safety course. Operators who complete the course may receive a discount on their liability insurance. Experienced riders should consider courses targeted to their skill levels.
A few suggestions that Travel Oklahoma recommends include:
Drive defensively. Understand that cars often fail to see you and fail to react in time. '
Be prepared (and practice) for driving in bad weather such as roads that are wet or slick, heavy winds, and road surfaces that are uneven.
Never ride when you're tired, or you've been drinking alcohol.
Be careful weaving in and out of lanes.
Ride in the part of the lane where you're most visible.
Wear "Bright clothing, a light-colored helmet and reflective strips or decals on your clothing or motorcycle with increase your visibility with other drivers."
Wear long-sleeve shirts and pants. Leather and other thick fabrics are advisable.
Flash the brake lights on your motorcycle when you're slowing down or stopping.
Be aware of the road conditions.
"Watch for turning vehicles, signal your next move in advance, and don't be afraid to use your horn."
Drivers need a motorcycle license to operate their vehicle. Motorcycle owners must have liability insurance for bodily injury (per person and per accident) and property damage that meets the state's minimum requirements.
Speak with a knowledgeable motorcycle accident lawyer serving Shawnee
At Cunningham & Mears, our Shawnee motorcycle accident lawyers work aggressively to hold all responsible people liable for your physical pain and suffering, medical bills, lost income, property damage, and scarring or disfigurement. We work with investigators and conduct extensive discovery to help prove fault. Our attorneys work with your doctors to verify your injuries, the treatment you need, and how the injuries have affected your life. To assert your rights, call us at 405-451-5077 or fill out our contact form today for a free initial consultation.