What Injury Victims Should Know Before Getting a Prosthetic Leg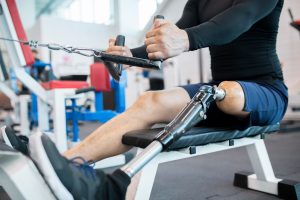 Losing a leg is life-altering. Amputation victims have the right to hold the people and businesses that caused their leg-loss responsible. Common causes of leg amputations include car accidents, slips and falls, construction accidents, oil field accidents, and defective products. Victims of negligent acts have the right to compensation for their medical expenses, lost income, pain and suffering, loss of function of body parts, disfigurement, and property damage.
Ideally, a prosthetic leg can help someone who has lost their leg in an accident. Victims need to work with experienced physicians and specialists to ensure they get the correct prosthetic leg and to ensure they know how to safely use the prosthetic leg. Dr. Mary Keszler of the prestigious Johns Hopkins Medical School recommends that victims understand the factors involved in acquiring and using a prosthetic leg.
Is a prosthetic leg a viable option?
Not every accident victim who loses a leg can be fitted with a prosthetic. There are many issues the physician or prosthetic specialist (a prosthetist) will need to review. These factors include:
How healthy is the other leg?
Where is the location of the amputation?
How much does what's left of your amputated leg hurt?
Is there enough soft tissue to cushion the remaining bone?
What is the condition of the skin on the limb?
How much range of motion does the residual limb have?
What functionality and mobility goals do you have?
As a rule, prosthetics work better if the location of the amputation is below-the-knee instead of above-the-knee. The physician/specialist will also review other health issues such as whether you have diabetes or peripheral vascular disease. Your lifestyle is also a factor.
What are the various parts of a prosthetic leg?
Prosthetic legs consist of three core parts:
The prosthetic leg. This is the actual leg, which "may or may not feature functional knee and ankle joints."
The socket. This part "is a precise mold of your residual limb that fits snugly over the limb. It helps attach the prosthetic leg to your body."
The suspension system. This part "is how the prosthesis stays attached, whether through sleeve suction, vacuum suspension/suction or distal locking through pin or lanyard."
There are numerous considerations that need to be reviewed for each part. Most people need to meet with their prosthetist multiple times.
Once an accident victim chooses the prosthetic, the rehabilitation process starts. Victims will work with different types of health care providers, depending on their goals and needs. The rehab process normally focuses on learning to walk with the prosthetic leg, strength exercises for the healthy leg and other parts of the body, and other efforts to ensure the healthy leg stays healthy.
Dr. Keszler states that some of the rehabilitation challenges include:
Excess sweating that can affect how the prosthesis fits
Changing tissue shape as the amputation heals
The health of the other leg
Residual limb pain which is fairly common for most amputees. One technique used to treat phantom limb pain is "looking at yourself in the mirror simulates the presence of the amputated leg, tricking the brain into thinking it's still there, stopping the pain."
Accident victims who have a leg amputation should expect that they will need to be refitted for a new prosthesis about every three to five years.
The good news, according to Dr. Keszler, is that prosthetic leg technology is always improving through the use of microprocessor joints, prosthetic legs for different activities, and osseointegration surgery which "involves the insertion of a metal implant directly into the bone, so there is no need for a socket."
At Cunningham & Mears, our Oklahoma City personal injury lawyers handle the tough cases including victims who suffer catastrophic injuries. We are experienced at working with physicians, medical specialists, and therapists to fully understand the medical and life challenges catastrophic accident victims face. We demand compensation for your economic losses and the ways injuries such as leg amputations affect your quality of life. To discuss any accident case which causes any type of injury, call our trusted Oklahoma City lawyers at 405.232.1212 or complete our contact form to schedule an appointment.