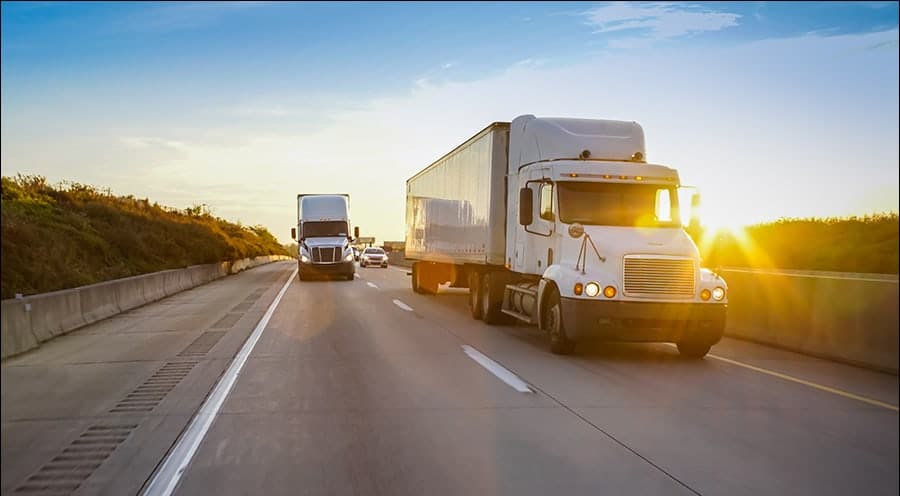 Work With a Dedicated Oklahoma City Truck Accident Lawyer
Experienced trucking accident attorneys in Oklahoma seeking compensation for you
At Cunningham & Mears, our Oklahoma City attorneys are dedicated to helping people injured in truck accidents caused by the negligence or wrongdoing of someone else. Using 55 years of combined legal experience, we strive to help you find the right medical care and obtain compensation for your medical costs, lost wages, loss of earning capacity, pain and suffering and other harm. Our goal is always to put you in a better position than when you first sought our assistance.
Representing people injured in all types of truck accidents
Large trucks have limited visibility and are difficult to maneuver, making it hard for them to safely share the road with smaller vehicles. Our attorneys assist clients injured in truck accidents involving almost all types of trucks and other large vehicles:
Tractor-trailers
Big rigs
Semis
Commercial trucks
18-wheelers
Delivery trucks
Fire trucks
Garbage trucks
Dump trucks
Back-hoes
What are the most common causes of truck accidents?
All drivers on the road have a duty to drive with ordinary care. When they fail to do so, this is considered negligence, and they can be held liable for any resulting accidents and injuries their negligence causes. At Cunningham & Mears, our Oklahoma City truck accident lawyers help the injured in recovering compensation for truck accidents caused by all types of negligence and wrongdoing:
Driver negligence
Employer negligence
Negligent hiring of truck drivers
Negligent training by employers
Improperly loaded or oversized vehicles
Failure to properly maintain truck
Dangerous or defective truck parts or truck design
Negligent road design
The vast difference in size between a tractor trailer and a passenger vehicle contributes to the immense damage that can happen in a truck crash. When a truck has a full load on board, it can weigh as much as 20 to 30 times the weight of a car. Trucks hauling a heavy load require a much longer breaking distance, they have several blind spots which make other cars on the road virtually impossible to see. All of this adds up to a greater hazard that large, commercial trucks create when their driver is distracted or impaired by alcohol, drugs, health conditions, or drowsiness.
Laws governing commercial trucks in Oklahoma
Oklahoma state and federal laws govern all aspects of the operation of commercial trucks including:
Size and weight
Loading of vehicles
Driver training
Commercial drivers licensing

Rest stop and maximum hour requirements
Truck maintenance
Vehicle safety
Transportation of hazardous materials
These laws were created to protect truckers and other drivers and to minimize the number of truck accidents. If a truck driver, commercial employer or other employee fails to follow these regulations and this results in injuries to you or your family, a personal injury lawyer at Cunningham & Mears can help you seek the compensation you need.
Proving liability in truck accidents
When a person suffers a serious injury in a truck crash and they file a lawsuit to recover compensation for their injuries and damages, the burden of proof is on the plaintiff (the injured party) to prove liability on the part of the truck driver, their employer, or in the case of an equipment malfunction, a third-party manufacturer caused the injury. This is where you benefit from the services of a skilled Oklahoma City truck accident lawyer from Cunningham & Mears. We investigate the accident, identify what caused the crash and hold the responsible party accountable for your damages.
Because an 18-wheeler is a commercial vehicle, a truck accident is far more complex than settling a car accident between two passenger vehicles. You need an experienced truck accident lawyer who knows the law, understands the tactics used by commercial fleet operators and their legal teams, and who is prepared to make sure that you get the compensation you need.
Seek assistance from a skilled truck accident attorney
Unfortunately, due to the size and weight of large trucks, truck accidents often cause significant damages, including serious injuries and temporary or permanent disabilities. At Cunningham & Mears, we work hard to get you full and fair compensation for all your injuries and harm. To learn more about our truck accident representation, contact us or call 405-232-1212 today for a free initial consultation.
Related Articles