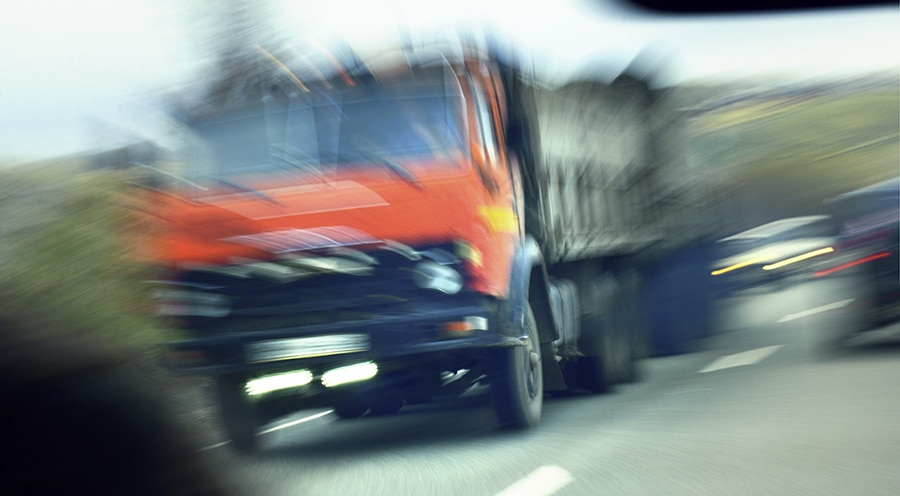 Shawnee Truck Accident Lawyers
Aggressive representation for truck accident victims throughout Pottawatomie County
All types of trucks drive through Shawnee, Oklahoma: semis, rigs, tractor-trailers, box trucks, flatbeds – you name it, and we have them. When truck accidents happen, the drivers and trucking companies who hire the drivers deserve to be held accountable for the deaths and serious injuries they cause.
At Cunningham & Mears, our Shawnee truck accident lawyers understand how devastating it is for families to learn someone in their family died. We understand how truck accidents are traumatic for all victims. We file personal injury claims against all responsible parties for pain and suffering, lost income, medical expenses, and property damage. We file wrongful death cases, if a member of your family tragically died in a truck crash. We have a strong track record of success including numerous six and seven-figure recoveries. Call us today for the help you need.
Why are truck accidents more dangerous than car accidents?
According to the Federal Motor Carrier Safety Administration (FMCSA), in 2108 there were 4,862 fatal crashes involving large trucks, and 112,000 truck accidents leading to injuries. While truck accidents may be rarer than car crashes, they are often more dangerous because trucks are:
Heavier, longer, wider, and taller than cars
Have larger, and a greater number of, blind spots than cars
Carry cargo that can spill or cause the driver to lose control
Are more difficult to control than cars
What are the common types of truck accidents in Shawnee?
Many truck accidents happen in much the same way car accidents happen, such as:
Head-on crashes
Rear-end collisions
Broadside accidents
Sideswipes
Accidents that are fairly unique to trucks include:
Jackknifes.  Here the trailer turns 90 degrees away from the tractor. Jackknife accidents can take up the whole roadway and cause many secondary accidents.
Rollover accidents. Trucks have a different center of gravity than cars which makes trucks more prone to rollovers – especially when drivers take turns too fast.
Accidents due to blind spots. Most trucks don't have rear windows or side windows other than in the tractor cab. Truck drivers need to be especially careful when they turn or pass so they don't crunch any nearby cars.
Underride accidents. The underside of many trucks is taller than some cars. If a car is driving too closely, the car can get stuck under the truck (often, killing the car occupants) if a truck stops at a light or a traffic signal, and the car fails to stop in time.
Tire blowouts. Trucks have many more tires than cars. Just one tire blowout can cause a driver to lose control of his/her truck.
Spilled cargo. If the truck cargo isn't secured properly, it can spill all over the road causing havoc for everyone nearby.
Multi-vehicle accidents. When trucks roll over, jackknife, or cargo spills, vehicles nearby may collide with the truck, crash into other vehicles, or veer off the road.
What makes a truck driver or trucking company negligent?
Truck driving accidents in Oklahoma are often due to negligence. That negligence can include:
Speeding
Driving while intoxicated or under the influence of drugs
Driving while distracted – texting while driving, talking on a cellphone, looking at a GPS system, eating, drinking, or smoking
Not merging properly
Passing improperly
Driving too fast for poor weather conditions
Not staying in the center of the lane
Not understanding how to operate the truck
Cargo that isn't properly secured
Cargo that exceeds Oklahoma and federal weight limits
Truck accidents may also be caused by defective truck parts, poor road design, and because a bar or tavern served a driver who was visibly intoxicated, or who was under 21 and that person caused the truck accident due to his/her intoxication.
A quick note about trucker fatigue
Fatigued driving is just as dangerous as drunk driving. It impairs vision, reflexes, and cognition, and can lead to serious accidents. That is why truck drivers are required to take regular daily and weekly rests to ensure they're not too tired when they drive, per the Federal Motor Carrier Safety Administration. Many drivers, however, exceed these FMCSA limits because they are being forced to do more by their employers, or because their paychecks are dependent on how quickly they can get from Point A to Point B.
The limits govern how many hours a driver can operate a truck during a day and during 60- or 70-hour work weeks. Some of these time limits were suspended during the pandemic, but truck drivers and truck companies should expect that the limits will be requirements again soon.
Who can be held liable for a Shawnee truck accident?
Our Shawnee personal injury lawyers work aggressively to hold everyone who caused your injuries, or the death of a loved one, liable. Often, there are more people responsible than you might think. Defendants in truck crash cases include:
The driver
The owners of the truck
The truck company that hired the truck driver to make a delivery
A truck broker who arranged the truck delivery
The shipping company that receives the cargo
A tavern that served a driver who was knowingly intoxicated
Oklahoma or any of its subdivisions or agents may be liable if improper road design caused the accident
A truck manufacturer, distributor, or seller that sold a defective truck part
At Cunningham & Mears, know that proving liability is a crucial step in building your truck injury claim. Our attorneys determine the liable parties by:
Investigating the scene of the accident
Speaking with the police who investigated the accident
Conducting discovery through written and oral questions
Analyzing any black boxes in the truck
Reviewing the truck driver logs to determine if the driver was operating the truck while tired
Working with traffic reconstruction experts if necessary
Many other types of tasks depending on how the accident occurred
What types of injuries do Shawnee truck accidents cause?
Due to the force and impact of truck accidents, drivers, passengers, and pedestrians who are involved in a truck accident may suffer:
Broken bones
Soft tissue injuries
Muscle, ligament, tendon, and nerve damage
Internal organ damage
Bruises, cuts, and lacerations
Burn injuries
We demand full and just compensation for all your injuries. In cases involving fatal truck accidents, we file wrongful death claims on behalf of the family or personal representative.
What damages am I entitled to receive in a truck accident case?
In truck accident cases, we demand compensation for:
Physical pain and emotional suffering
Any scarring or disfigurement
All your medical expenses
Any lost income including income loss due to a permanent disability
The property damage to the truck
All other damages the law permits
Contact a skilled truck accident attorney serving Shawnee
Don't delay. It's critical that you contact an experienced Shawnee truck accident lawyer as soon as possible. We'll help by immediately reviewing your medical diagnosis, prognosis, and the types of treatment you need. We'll investigate the cause of the accident and file claims against all responsible parties. To discuss your truck accident claim, contact us or call 405-451-5077 today for a free initial consultation. We handle truck accident cases on a contingency fee basis.